Jobs Open! is a joint campaign between JewishCare and Jewish House. Our goal is to unite the community by bringing together employers and job seekers looking for opportunities. This employment initiative is about employers being job open to diversity, inclusivity and opportunities with job seekers, including those with a disability. This free service ensures the best match for both employers and employees.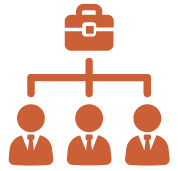 Employers
Let us connect you with the right job seeker now
Job Seekers
Let us get you job-ready and connect you with potential employers.
Jobs Open! brings together three initiatives that have been working to address unemployment within the Jewish community
Avodah Jobs Project
An initiative helping to secure employment for people in our local community who have recently lost their job as a result of COVID-19, and other personal crises. Through this project, clients receive access to Jewish House's social workers and psychologists, professional career mentors, CV writing support, and interview skills.
Project Turnaround
A program developed to ensure those looking for work are in the strongest position to secure their next position. Through intensive job seeking support which includes resume writing, interview skills, application letters, career coaching/advice/mentoring, workshops/ training and job matching, our job seekers come with experience from all different industries. Partner with us to help turn lives around.
J-JOBS
J-JOBS is breaking down barriers and optimising business outcomes through the employment of people living with disabilities. Funded by JCA's The Choice Foundation, J-JOBS is an innovative approach to getting and maintaining meaningful employment for a job seeker with a disability. J-JOBS is centered on the customised employment approach and uses proactive strategies to match job seekers with business needs.